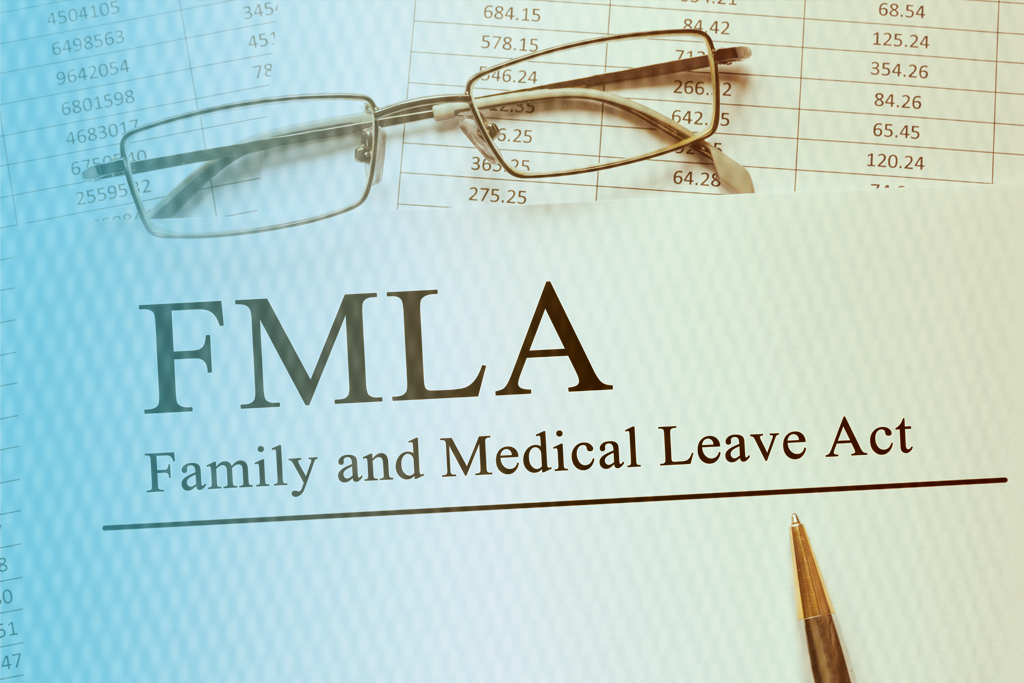 Leave Entitlement
The University will grant an eligible employee up to a total of 12 workweeks of unpaid leave in a 12-month period for one or more of the following reasons:
For incapacity due to pregnancy, prenatal medical care, or childbirth;
Placement of a child with the employee for adoption or foster care, and to care for the employee's newly adopted child or a child newly placed in the foster care of the employee.
To care for the employee's family member with a serious health condition.
The employee's serious health condition.
The 12 workweeks are determined based on a total number of hours (adjusted for an employee's FTE) rather than 12 calendar weeks: for example, a 1.0 FTE employee (scheduled to work 40 hours per week) is entitled to up to 480 hours, annually.
Employees may choose to use accrued paid leave instead of unpaid leave for any portion of the 12 workweeks.
Information for Military Family Leave Entitlement can be found here.
Leave Types
An employee's FMLA leave will be one of three types:
Continuous
Reduced Work Schedule
Intermittent/Sporadic
The appropriate type of leave will be determined based on the information provided in the medical certificate completed by a physician.
The everchanging nature of an employee's reason for taking FMLA will determine the type of leave they are on at any given time. An employee's leave type may change throughout the course of their FMLA entitlement period.
In many cases, an employee's FMLA period may therefore extend beyond 12 calendar weeks due to the type of an employee's leave.
Employee Eligibility
Faculty, TEAMS, USPS and OPS employees, including Post-Doctoral Associates, are eligible for up to 12 work weeks of FMLA leave once they have worked at least 12 months (need not be consecutive) and also have worked at least 1,250 hours during the 12 months prior to the start of the FMLA leave. Breaks in employment do not affect this total. It is a cumulative total of the number of months the employee has been employed by the University.
UF also offers a parental leave program, which allows employees to take up to 6 months away from work (paid or unpaid) to care for their new families. This benefit is available immediately upon starting a position at the university for all leave-accruing employees (this benefit does not require an employee to be eligible for FMLA).
FMLA Term Definitions
Benefit Year

The University of Florida uses the UF fiscal year, which is the twelve-month period from July 1 through June 30.

Family Member

An employee's spouse, children (son or daughter), and parents are immediate family members for purposes of FMLA.

While use of sick leave and extended medical leaves of absence are available for employees with family members who meet the University's definition of immediate family, those absences will not be designated as qualifying under the FMLA unless the employee's family member also meets the federal definition.

Serious Health Condition

A serious health condition is defined as an illness, injury, impairment, or physical or mental condition that involves:

any period of incapacity or treatment connected with inpatient care in a hospital, hospice, or residential medical care facility; or
a period of incapacity requiring absence of more than three calendar days from work, school, or other regular daily activities that also involves continuing treatment by (or under the supervision of) a health care provider; or
any period of incapacity due to pregnancy, or for prenatal care; or
any period of incapacity (or treatment therefore) due to a chronic serious health condition; or
a period of incapacity that is permanent or long-term due to a condition for which treatment may not be effective; or,
any absences to receive multiple treatments (including any period of recovery therefrom) by, or on referral by, a health care provider for a condition that likely would result in incapacity of more than three consecutive days if left.
Requesting FMLA
An employee who believes they may be eligible for FMLA (or a non-FMLA qualifying UF Medical Leave) will have their physician/the physician of a family member complete the appropriate Medical Certification form (see Resources and Forms) and send it directly to Central Leave at central-leave@ufl.edu or via fax 352-392-5166.*
* The physician may send the forms directly to Central Leave, however first the employee must complete section II of the certification (section I may be left blank for completion by Central Leave Administration).
*Employees who are taking leave due to childbirth or placement of a child for adoption or foster care are not required to submit a Medical Certification.
Central Leave administrators will review the medical certificate to confirm FMLA eligibility and work with the department to determine the appropriate leave type for the individual and how it would appropriately be recorded in the Request for Extended Leave of Absence.
The department must inform employees requesting leave whether they are eligible under FMLA. If they are, the notice must specify any additional information required as well as the employees' rights and responsibilities. If they are not eligible, the employer must provide a reason for the ineligibility. If the employee will be going on extended leave of absence, the Extended Leave of
Absence form includes the employee's rights and responsibilities under the FMLA, as well as the Designation Notice, which must be completed by the employer to indicate if the leave is FMLA-qualifying.
An employee must provide the university at least 30 days advance notice before FMLA leave is to begin if the need for the leave is foreseeable based on an expected birth, placement for adoption or foster care, or planned medical treatment for a serious health condition of the employee or of a family member. If 30 days' notice is not practicable, notice must be given as soon as practicable.
Resources and Forms
Employee
Department
*All covered employers are required to display and keep displayed a poster prepared by the Department of Labor summarizing the major provisions of The Family and Medical Leave Act (FMLA) and telling employees how to file a complaint. The poster must be displayed in a conspicuous place where employees and applicants for employment can see it. A poster must be displayed at all locations even if there are no eligible employees.
Military Family Leave Entitlements
Qualifying Exigency Leave
Eligible employees with a spouse, son, daughter, or parent on covered active duty or call to active duty status in the National Guard and Reserves and the Regular Armed Forces in support of a contingency operation may use their 12-week leave entitlement to address certain qualifying exigencies. Covered active duty requires deployment to a foreign country. Qualifying exigency leave may be taken for the following reasons:
(1) short notice deployment;
(2) military events and related activities;
(3) childcare and school activities;
(4) financial and legal arrangements;
(5) counseling;
(6) rest and recuperation;
(7) post-deployment activities; and
(8) additional activities.
Eligible employees may take leave to care for a military member's parent who is incapable of self-care when the care is necessitated by the member's covered active duty. Such care may include arranging for alternative care, providing care on an immediate need basis, admitting or transferring the parent to a care facility, or attending meetings with staff at a care facility.
An employee that believes they may qualify for this leave must complete the Certification of Qualifying Exigency for Military Family Leave.
Serious Injury or Illness for a Current Servicemember
FMLA also includes a special leave entitlement that permits eligible employees to take up to 26 weeks of leave to care for a current servicemember during a single 12-month period. A covered servicemember is a current member of the Armed Forces, including a member of the National Guard or Reserves, who has a serious injury or illness incurred in the line of duty on active duty or injury or illness that existed before the beginning of the member's active duty and were aggravated by service in the line of duty on active duty in the Armed Forces. that may render the servicemember medically unfit to perform his or her duties for which the servicemember is undergoing medical treatment, recuperation, or therapy; or is in outpatient status; or is on the temporary disability retired list.
An employee that believes they may qualify for this leave must complete the Certification for Serious Injury of Illness of Current Servicemember.
Serious Injury or Illness for a Covered Veteran
A serious injury or illness for a covered veteran means an injury or illness that was incurred or aggravated by the member in the line of duty on active duty in the Armed Forces and manifested itself before or after the member became a veteran, and is:
(1) A continuation of a serious injury or illness that was incurred or aggravated when the covered veteran was a member of the Armed Forces and rendered the servicemember unable to perform the duties of the servicemember's office, grade, rank, or rating; OR
(2) A physical or mental condition for which the covered veteran has received a VA Service Related Disability Rating (VASRD) of 50 percent or greater and such VASRD rating is based, in whole or in part, on the condition precipitating the need for caregiver leave; OR
(3) A physical or mental condition that substantially impairs the veteran's ability to secure or follow a substantially gainful occupation by reason of a disability or disabilities related to military service or would do so absent treatment; OR
(4) An injury, including a psychological injury, on the basis of which the covered veteran has been enrolled in the Department of Veterans Affairs Program of Comprehensive Assistance for Family Caregivers.
An employee that believes they may qualify for this leave must complete the Certification for Serious Injury or Illness of a Veteran.
More Information
Any additional questions regarding FMLA can be addressed to Central Leave at central-leave@ufl.edu or 352-392-2477.