Investment plan enhancements
Investment plan enhancements

Stepping up our investment options to better serve your financial interests
As part of our Strategic Commitment to design and implement a fair and competitive compensation strategy, a number of efforts have been underway to elevate the University of Florida's suite of benefits offerings.
View the Fidelity Transition Site
UF Human Resources recently contracted with Sibson Consulting to evaluate the competitiveness of its state- and university-sponsored benefits and services, alongside other work in the area of compensation strategy. In the evaluation of our retirement landscape, we concluded more formal governance was needed to support the infrastructure surrounding the following UF-sponsored defined contribution plans:
The University of Florida 403(b) plan (voluntary)
The J. Hillis Miller Health Center 403(b) plan
The University of Florida Board of Trustees 401(a) FICA Alternative and Special Pay Plan
Importantly, please note that State of Florida SUSORP plans are not affected by this transition. Only UF-sponsored plans will transition.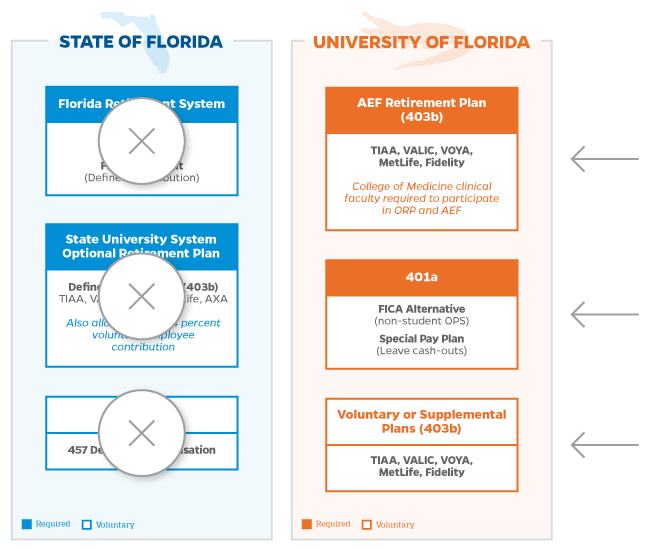 Advisory Group Members
An advisory group was established to help guide these efforts, comprising UF faculty and staff with financial and human resources expertise:
Vice President for Human Resources—Jodi Gentry

Director of University Benefits—Shannon Edwards

Assistant Director of University Benefits

—Victoria Peprah-Asante

Senior University Counsel for Tax, Corporations, and Athletics—Mike Ford

Associate Vice President and Deputy General Counsel—Ryan Fuller

Executive Director for Finance and Administration, College of Medicine—Jeremy Sibiski

Finance Director, University Athletic Association—Melissa Stuckey

Assistant Vice President and University Controller—Alan West

Faculty experts:

Brian Gendreau, Professor of Finance, Insurance, and Real Estate in the Warrington College of Business
Michael Ryngaert, Professor of Finance, Insurance, and Real Estate in the Warrington College of Business
Why is UF doing this?
By clarifying roles and responsibilities, UF can provide a more formal framework for effective decision‐making by:
Instituting investment governance to include a Governing Board, Investment Advisory Group and professional investment advisors
Implementing regular reviews of our UF‐sponsored defined contribution plans
Leveraging economies of scale of UF‐sponsored investments more effectively to ensure transparency and competitiveness of any service provider fees and associated terms
Reducing the number of recordkeepers and investment options to improve clarity about investment choices
How will this affect you?
Through a public procurement process, UF has selected Fidelity as its sole recordkeeper for UF's investment services

You can learn more about the procurement process here.

By having just one recordkeeper, UF employees' participant administration fees will be reduced and enrollment will be simplified.
Fees you will be charged will be more transparent.
A new streamlined investment menu with best-in-class investment options will be organized in tiers, from which you will be able to create a diversified portfolio.

A self-directed brokerage window will also be available for investors who want access to additional options.

Some of your funds will automatically transfer, if needed; others will stay where they are unless you elect to move them. We'll provide these opportunities as early as possible, and support will be available to help you through this decision-making process.
Timeline
July/August 2018 – Conducted review of available investment consultants

October 2018 – Entered into an agreement with LCG Associates

December 2018 – Advisory work group meeting
March 2019 – Advisory work group meeting
August 2019 – UF Senior Leadership meeting
November 2019 – Trustee Representative Meeting (Enterprise Cash Working Group)
January/February 2020 – ITN released
Summer 2020 – Preparing for final stages: Governance, Recordkeeper, Fund Line-Up, Communication
Fall 2020 – Transition and implementation work
January 2021 – Launch
Town Hall
Frequently Asked Questions
The following questions and answers are designed to help employees understand the upcoming changes to the University of Florida voluntary 403(b) retirement plans.
Additional transition details will be provided in November.
What is changing?

Effective January 2021, Fidelity Investments ("Fidelity") will become the new service provider for recordkeeping and plan services for the University of Florida 403(b) voluntary retirement plans. This means accounts at MetLife, TIAA, VALIC, and Voya will transfer to Fidelity. In addition, you will have access to Fidelity's online planning tools, videos, website, mobile app and more, to help you manage your account.

What is not changing?

These improvements will not affect plans under the auspices of the Florida Retirement System or the State of Florida's Optional Retirement Program.

Why are these changes being made?

Over the past several months, the University undertook a comprehensive review of its voluntary 403(b) plans to ensure they continue to meet industry best standards in a changing environment. The review was conducted by a committee comprised of UF faculty and staff with HR and financial expertise in an effort to make decisions for the exclusive benefit of participants in UF-sponsored defined contribution plans.

After an exhaustive review and a competitive public procurement process, the committee selected Fidelity Investments to be the sole administrator of recordkeeping services for UF's voluntary 403(b) retirement plans. By selecting a single provider, the University of Florida is able to leverage its organizational purchasing power to create a more cost-effective plan and provide the best value for our faculty, staff and retirees.

When will the change take place?

The transition to Fidelity is effective January 4, 2021.

The timing of the plan changes and transition period, including any asset reallocations, described depends on a variety of factors, which may include the timing and accuracy of the transfer of data, receipt of instructions and receipt of assets. Changes in any of these factors may result in changes to the timing of the delivery of services, the transition period, and/or the dates on which, and thus the prices at which, assets in your account are sold and/or reinvested.

Will there be any changes to the available investment options?

Yes, there will be changes to the investment lineup, and this will be outlined in detail in the Transition Guide. An investment election window will provide you with the opportunity to review and choose investment options in your plan(s) prior to the transition.

Will employee contribution elections move to Fidelity?

Yes. Your employee contribution elections, pretax, Roth and/or after-tax, will move to Fidelity.

Will investment elections move to Fidelity?

Yes. You will be required to make new investment elections for future contributions to your plan account(s) because of this transition process.

When will we learn more about the move to Fidelity?

More details, including a Transition Guide, will be provided in November. In addition, a transition website will be available to help you stay informed during the transition, and you will have the opportunity to attend a live, presenter-led virtual workshop hosted by Fidelity.
View the Fidelity Transition Site