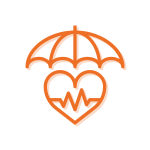 State of Florida Supplemental Plans
The state offers eligible, active employees the opportunity to participate in optional, employee-pay-all, supplemental insurance plans. These plans are called employee-pay-all because employees pay the entire premium; the state does not contribute. Like the health plans, the state deducts premiums for these plans from your paycheck on a pretax basis (before taxes are taken out).
These plans include accident insurance, cancer insurance, disability insurance and more. For more details, visit the Other Supplemental Plans page on the state benefits site.
UFSelect Standard Long-Term Disability Insurance
Voluntary disability insurance from Standard Insurance Company is designed to pay an income benefit in the event of a covered illness or injury. For complete plan details, see the plan brochure and plan coverage highlights
Evidence of Insurability is required if applying outside of the new hire enrollment period or if changing from the 90-day plan to the 30-day plan. Please follow the instructions on the Electronic Evidence of Insurability* flyer.
*the 30-day plan is referred to as Short Term Disability and the 90-day plan as Long Term Disability on the Medical History Statement
UFSelect Preferred Legal Plan
UFSelect offers a legal plan that provides low-cost access to a comprehensive legal assistance, advice, and representation on different types of legal services. Premiums are paid conveniently through payroll deduction.
For complete plan details see the plan brochure.