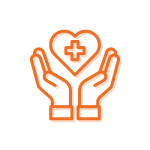 State of Florida Basic Life Insurance
The State of Florida offers term life insurance to eligible full-time and part-time employees. For complete plan details visit the the MyBenefits section of the state's website.
UFSelect Term Life Insurance
For complete plan details see the Plan Brochure and plan coverage highlights.
Evidence of insurability is required if applying for coverage in excess of guarantee issue amounts. Please follow the instructions on the Electronic Evidence of Insurability flyer.
For Active Duty Military
For Terminated or Terminating Employees
---
Note: Update life insurance beneficiaries any time using the online instruction guide.