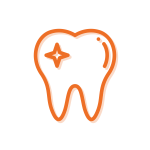 When selecting a dental plan, it is important to carefully review and understand the plan provisions and provider network before enrolling. Covered services, rates, and dental providers vary widely from plan to plan. You should always confirm your plan coverage and payment responsibilities with your dentist and/or dental company in advance of treatment to avoid any unexpected expenses.
State of Florida Dental Insurance (pre-tax)
The State of Florida offers a number of plans to meet your dental needs, including Prepaid, PPO and indemnity plans.
An overview of these plans is available on the myBenefits website.
To Enroll: Login to the state's People First portal using your People First user ID and password.
For Assistance: Contact the People First Service Center at (866) 663-4735.
UFSelect Eagles Dental Plan
The University of Florida offers Eagles Direct Reimbursement Dental Plan directly to eligible employees.
View the plan brochure for more information.
To Enroll: Login to the myUFL portal using your Gatorlink ID and password.
For Assistance: Contact UF Benefits at benefits@ufl.edu or (352) 392-2477.